Railway to Hell.
What's Luck Got To Do With It?
by Heather Kerry
On our return journey to Bangkok after one of the most amazing days of my life, my husband, John, turned to me and said: 'You thought that you were unlucky to lose your father when you were sixteen, now you know how lucky you were to have had him for that long!'
My name is Heather Kerry, nee Ford, and I was on holiday in Thailand with John and my daughter Kate. I knew that my father, Donald William Ford, had been captured by the Japanese in Singapore in February 1942 and spent the rest of the war as a PoW on the Thailand-Burma Railway. Typically, because PoWs on their return were strongly advised not to speak about their experiences, I knew very little else about his time on the Thailand-Burma Railway.
We were going to make the normal tourist trip to The Bridge on the River Kwai: a coach ride to Kanchanaburi, a short ride over the bridge, a visit to the souvenir market and a totally unrelated elephant ride to fill in the rest of the day. The irony is that most people's visit to Kanchanaburi is to see The Bridge made famous by the film, and not to understand and see evidence of the wartime nightmares caused by the Japanese need and urgency to build a supply route for its war ambitions.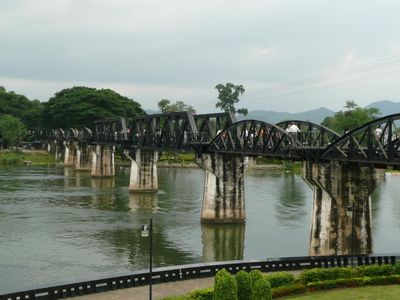 Photo of bridge over River Kwai
Some weeks before our trip to Thailand I decided to subscribe to Children & Families of the Far East Prisoners of War (COFEPOW). Soon after I had an e-mail from Jonathan Moffatt who suggested that I contact The Thailand-Burma Railway Centre (TBRC) at Kanchanaburi. Following an initial enquiry Terry Manttan, who manages the museum at the Centre, e-mailed me back.

After years of just wondering, the amazing day we spent with Terry meant that I could begin to understand what my father and thousands of others endured. We were mesmerised by Terry's knowledge, understanding and empathy with the terrifying ordeal the PoWs went through. I am not going to attempt to tell the story of the Thailand-Burma Railway, I can only write about a day that will have an everlasting effect on me. I can tell you that reading Lord of the Flies does not prepare you adequately for the horrendous way the Japanese treated their PoWs.
I contacted Terry by e-mail three weeks before our holiday. We exchanged information that I had from an autograph book my father had kept during the war. The book contained sketches, poems and thoughts of some of his friends during their capture. I now realise that he risked his life keeping this precious book. I understand that the Japanese forbade any record keeping whatsoever. The outcome could have been torture or more likely execution. As a little girl I almost ruined the book by scribbling my own bits of nonsense on it; it was an illustration of what a kind and loving father he was that he didn't even get mildly annoyed with me for scribbling on something so precious.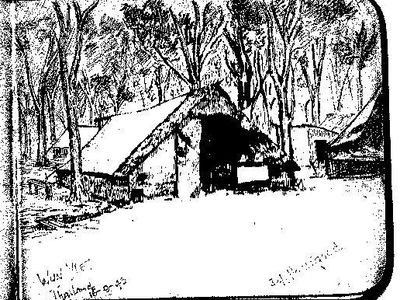 One of the drawings from my father's autograph book. Wun Yai 16.09.43 D.L. Hosegood

Terry suggested that I request a Japanese Index Card and PoW questionnaire from The National Archives at Kew in London, with the help of a reference number supplied by Terry. This was surprisingly easy to do and gave me details of the camps and dates of my father's time in Thailand.
We had only scheduled one day for our visit and had asked Terry for a possible itinerary. 'One day is not enough – as you will see – but I will do my best', said the e-mail. We were picked up at 7.00am at our hotel in Bangkok and taken to the museum, where we met Terry.
The first hour was spent listening to Terry giving us an overview of the railway, followed by an amazing interpretation of the experiences my father was most likely to have had through his ordeal. This was followed by a tour of the museum, which meant that visualization of the whole thing was made possible. Terry's father was an Australian PoW and it was this fact that first brought Terry to Thailand. After speaking briefly to us of his father's ordeal he remarked: 'I am glad that I never had my character tested as my father did.' As an ex teacher I can tell you that it brought a whole new meaning to the word 'test'.
Was there a formula for survival? Maybe to an extent. You had to be resilient, determined, disciplined, brave, but perhaps most of all, lucky!
Terry explained that my father was in one of the first groups to be brought up to Ban Pong – about half way between Bangkok and Kanchanaburi. My father then went on to the near-by Nong Pladuk base which was the starting point of the railway at the southern end. His movements were not typical and his long stay in Nong Pladuk may have been explained by his simply doing a good job there and making himself useful enough to the British Officer in charge to want to keep him. We will never know. A more usual pattern would have been to go up to Kanchanaburi and then on to various camps further into the jungle. My father spent thirteen months at that base camp before going up to Wang Yai for three months. He was then moved to Kanchanaburi; he may have fallen very ill or maybe have simply completed his work there.
These movements, mercifully, meant that he did not have to experience the unimaginable time the PoWs had who went into the jungle. As a general rule, the further into the jungle you went, the harder it became.
When the railway was completed he remained in Thailand and was repatriated from Saigon. Many were shipped to Japan and torpedoed by allied submarines on the journey. Indeed my father may well have been waiting for shipment to Japan when the war ended.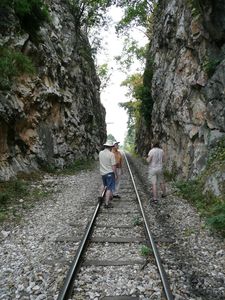 Chungkai cutting – one of the easier ones!
John, Terry and Kate
Terry took us on a tour of campsites in Kanchanaburi where my father would have stayed. The tour included a look at the railway going through cuttings, bridges, and a taste of how it was built. He kept filling in the jigsaw with fascinating stories, information and asides. For example, the story of Boon Pong, a local merchant who supplied food to the Japanese for the PoWs. Boon Pong risked his life daily by smuggling vital medical supplies, vitamins and special food items whenever possible to PoWs in false bottoms of supply crates.
Incidentally, vitamins were so scarce and deficient in the diet that even Marmite (which was a standard Army issue) was highly regarded by the doctors and medics and saved many lives while it remained available. It would be interesting to think of the different perceptions that we and the PoWs must have had of Marmite. Our image of Paddington Bear and the 'love it or hate it' theme –whereas their image may have been 'this could save my life'.
We drove past Boon Pong's old shop in Kanchanaburi and understand that it is now run by his sister-in-law. His bravery at least goes some way to balancing the brutality of the Japanese.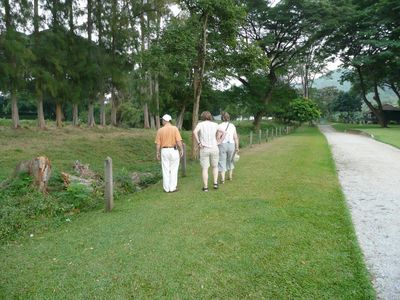 Remains of the ditch

We visited the cemetery at Chungkai. A huge ditch surrounds the cemetery which was originally part of a PoW camp. PoWs were ordered to dig themselves this 'swimming pool' knowing that it was probably going to be their grave. Terry brought the significance of this chillingly to life by reading an entry from the Japanese Headquarters Journal, it read:
Extreme measures to be taken against PoWs' urgent situation. Whether they are destroyed individually or in groups, or however it is done, with mass bombing, poisonous smoke, poisons, drowning, decapitation, or what, dispose of the prisoners as the situation dictates. In any case it is the aim not to allow the escape of a single one, to annihilate them all, and not to leave any traces.
Listening to this on site is impossible to describe.
One of the names we gave to Terry was Richard Waddington who was my father's best friend. Tragically he was killed by allied bombing in Nong Pladuk in September 1944.
The last part of the day was spent visiting the War Cemetery in Kanchanaburi which is next to the museum. Unbelievably Terry had located the grave of Richard. We were able to pay our respects and leave a copy of the poem he had chosen to write in my father's little book whilst they were both at Ban Pong in 1942. The irony of the words were not lost on us: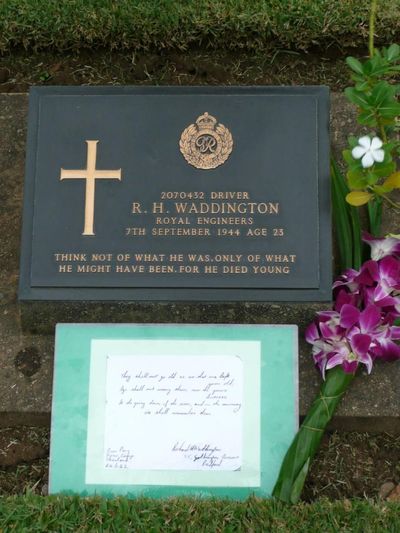 They shall not grow old as we that are left grow old.
Age shall not weary them, nor the years distress.
At the going down of the sun, and in the morning,
We shall remember them.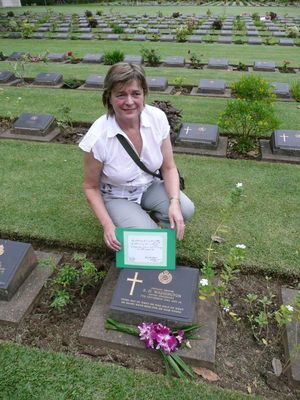 An emotional end to a long day
How can we thank Terry enough for making the day so meaningful? I don't know. We were very lucky to find him but maybe not as lucky as my father was to survive his stay on the Thailand-Burma Railway.
Heather Kerry
Christmas 2007

PS: It is sometime since I wrote this account of my visit to the railway at Kanchanaburi but something has been playing on my mind. Obviously I cannot give an objective assessment of what I saw but I can try to be realistic. It was wartime.
• The task of building the railway through such terrain was, up to then, considered impossible.
• The Japanese were desperate to complete it because the war was going badly for them.
• It was inevitable that such a huge number of PoWs would prove to be impossible to feed adequately.
• The conditions would have been horrendous whosoever had worked there.
• Proper medical treatment and care would have been impossible given those circumstances.
• Torture happens in all wars and indeed in so-called peacetime. At least torture in wartime can have a purpose which only the most naïve would not understand.
What I cannot understand, however, is the gratuitous torture and abuse that the Japanese and Korean guards inflicted on these PoWs. It seems that the only reason they did it was because they could.
HEATHER KERRY SENT US THIS ACCOUNT OF "ONE OF THE MOST AMAZING DAYS" OF HER LIFE AFTER SHE VISITED KANCHANABURI AND TBRC IN NOVEMBER 2007.

Want to do your own Tour? Check out the Pilgrimages Page